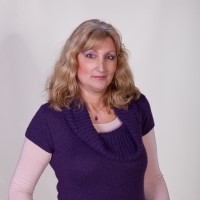 Vesna
Mikolič,
PhD
Principal Research Associate
Head of Institute
Research fields:
Linguistics
Semantics
Intercultural pragmatics
Literary pragmatics
Biography:
Vesna Mikolič graduated in 1989 in Slovene language and literature and Italian language and literature from the Faculty of Arts, University in Ljubljana, Slovenia. In 2001, she received her master's degree in Slovene language and stylistics (course on sociolinguistics) and in 2004 she obtained her doctorate degree in linguistics from the Faculty of Arts, University in Ljubljana, Slovenia (PhD dissertation "Language as a Reflection of Ethnic Awareness in the Ethnically Mixed Area of Slovene Istria").
She is employed full time at the Science and Research Centre Koper (ZRS Koper), where she heads the Institute for Linguistic Studies. She is a member of Scientific Council and the Election Commission of ZRS Koper, and of the Editorial Board of the publishing house Annales ZRS.
After having taught Slovene and Italian at the Secondary School of Economics and Social Sciences in Koper (1988-1990) and at the Koper Grammar School (1990-1993) for several years, she spent a few years working as editor and manager of the Italian desk at the Založba Lipa publishing house (1993-1995), and as independent organiser of cultural events at the Association of Cultural Organisations in Koper (1995-1997). In 1997, she was employed by ZRS Koper. She participated in the foundation of the Faculty of Humanities at the University of Primorska (UP FHŠ), where she established the Slovenian Studies Programme and was the first head of the Slovenian Studies Department. From 2004 to 2012 she was the Dean of the Faculty. She was also a member of the UP Senate and the UP FHŠ Senate.
She has lectured at several foreign universities (Rijeka and Zagreb - HR, Kelowna - CAN, Bielsko Biala - PL, Tokyo - JAP, Sarajevo - BiH, Moscow - RUS, Novi Sad - Serbia, Trieste, Bologna - IT, Graz, Klagenfurt - AT, Seattle - USA). Since 2016 he has also been lecturing regularly at the Department of Slovenian Language and Literature at the Faculty of Humanities of the University of Trieste.
Vesna Mikolič is the author of more than 500 bibliographic units, including numerous scientific articles in indexed journals, chapters in scientific monographs and monographs with national and international scientific publishers. She is the author of the following scientific monographs, among others:
Jezik v zrcalu kultur (Koper, Annales Scientific Publishing House, 2004),
Ethnic Identity and Intercultural Awareness in Modern Language Teaching: Tilka Model for Ethnic Conflicts Avoidance (New York, Nova Science Publishers, 2016),
Govor turizma (Koper, Annales Scientific Publishing House, 2015) and
Izrazi moči slovenskega jezika (Koper, Annales Scientific Publishing House, Ljubljana, Slovenska matica, 2020),
Editor and co-author of the e-dictionary of tourist terminology TURS and tourist corpus TURK and editor of the Bosnian-Slovenian dictionary (Sarajevo, Ljubljana). She has independently or collaboratively compiled and edited several monographs and proceedings, most recently Language and Culture in the Intercultural World with Cambridge Scholars Publishing. She is also an essayist and publicist, publishing her essays, columns, and commentaries in newspapers (Primorske novice, Delo) and magazines (Sodobnost, Fontana, Mladika, Dialogi, Primorska srečanja).
In 1990 she received the Prešeren Student Award from the Faculty of Arts, University of Ljubljana.
During her postgraduate studies, she received two scholarships: in 1998, a one-year scholarship from the University of Trieste (IT) for research National Consciousness and Communicative Competence in a Multicultural Society, and
in 1999, a scholarship to conduct the Slovenian-Canadian University Connection project at Okanagan University College (Kelowna, BC, Canada).
In 2011, she received the University of Primorska Award for Scientific Excellence.
In 2017, she received the ZRS Koper award for scientific excellence "Glasnik znanosti".
In 2017, she was among the five nominees for the best essay in the literary magazine Sodobnost.